Deerfield
Josh's On The SquareDeerfield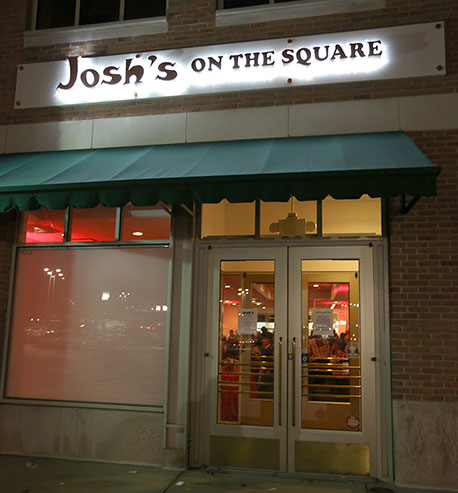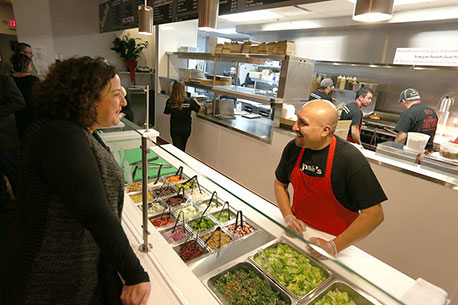 Josh's On The Square offers a slick new look, 5 big screen tv's, music and great food.
Featuring Josh's classic Chicago Style food including burgers, dogs, chicken and ribs. New on the menu is a Fresh Salad Bar with a selection of healthy greens and colorful vegetables.
In good weather we feature an outdoor patio with seating for 40.
Josh's On The Square is a great place to host your next special event. Whether it is a Bar/Bat Mitzvah, Kid-Mitzvah, birthday, graduation, awards banquet, or business meeting, Josh's On The Square offers great food, excellent service and a full service events team to help you with all the arrangements.
Stop in after a Warriors basketball game, for lunch or dinner any day, and bring the family for great food, friends and fun.
A few highlights include, but are certainly not limited to:
We use all beef Vienna Beef Hot Dogs, a Chicago favorite Our "Famous Polish Sausage" truly is one of the best around- try it and you'll agree Our hand packed hamburger patties are fresh, never frozen We proudly feature a Midwest favorite, Merkts cheddar cheese We stand by our homemade Italian Beef Sandwich as one of the best you'll ever taste Our Grilled Salami Sandwich on French bread will tickle the fancy of any salami lover All of our salads are always fresh and our dressings are homemade Our kids meals are all under $6.00
*Friday Rib Special*
Still Featuring Josh's Full Slab Rib Special$14.99
Includes
Full Slab of Ribs
Fries
Coleslaw
Garlic Bread
Daily SpecialsLittle things make us best in town
MONDAY
Philly Beef
green peppers, mozzarella & grilled onions on french bread
$5.79
TUESDAY
Rocket Burger
roasted jalapeños
& grilled onions
$5.59
WEDNESDAY
Burger Bomber
on french bread
$5.50
THURSDAY
BBQ Brisket
the best in town!
$6.49
FRIDAY
Hugo's Gyro
shpicy shawsh, grilled onions & lettuce
$5.99
Josh's On The Square
hours
Monday - Saturday: 11:00 am to 8:00 pm
Sunday: 11:00 am to 7:00 pm
Special Events and Catering
Josh - Just wanted to say a special 'Thanks' to you and your staff. Your staff did an excellent job on site for my husbands 50th birthday party. All of our guest were extremely pleased.

Good Morning Josh, Spectacular service and food! Hugo did an outstanding job and everyone loved the food. Thank you so much! You can be sure that any event (both business and personal) I plan will include Josh's in the future. See you soon for my weekly burger. Many, many thanks again