Our History2009-2016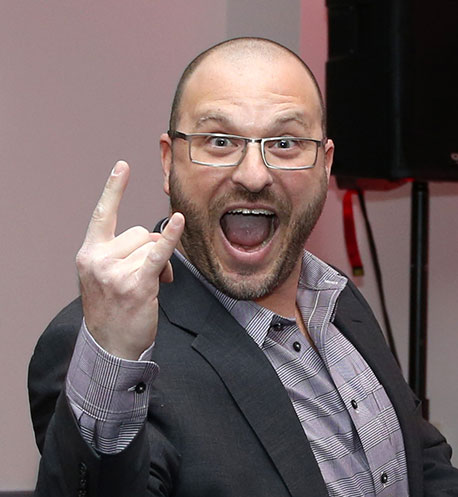 Josh Kaplan opened Josh's Hot Dogs of Northbrook in 2009. It was the realization of his boyhood dream, after may years of helping his father on his Vienna Beef delivery route and planning to have a restaurant of his own one day. With a commitment to excellence in food quality, store cleanliness and family style customer service, Josh's Hot Dogs has acquired the finest customers around. Josh's Hot Dogs has catered many of its customers birthdays, and special events. Josh is proud to support local schools with sponsorships and school lunches, and he takes pride in his charitable donations.
And now with the opening of Josh's On The Square in Deerfield, Josh's dream has come full circle. As a Deerfield native, and 1992 graduate of Deerfield High School, Josh is thrilled and proud to be welcoming his hometown guests to Josh's On The Square in the Shops at Deerfield Square shopping center. Josh is looking forward to catering many special events, participating in many of the local community activities.
We look forward to greeting you at one or both of our restaurants. You will be delighted with food, friends and fun.
A few highlights include, but are certainly not limited to:
We use all beef Vienna Beef hot dogs, a Chicago favorite Our "Famous Polish Sausage" truly is one of the best around- try it and you'll agree Our hamburger patties are fresh, never frozen, and are made with 50% beef brisket and 50% ground chuck. This leads to a lean and flavorful burger that we serve on a cornmeal dusted bun We proudly feature a Midwest favorite, Merkts cheddar cheese We stand by our homemade Italian Beef Sandwich as one of the best you'll ever taste Our Grilled Salami Sandwich on French bread will tickle the fancy of any salami lover All of our salads are always fresh and our dressings are homemade Our kids meals are all under $6.00
Thanks to our FriendsYou are the best!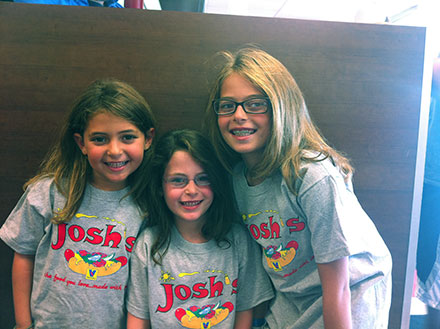 A few of Josh's close friends enjoying a birthday lunch at Josh's.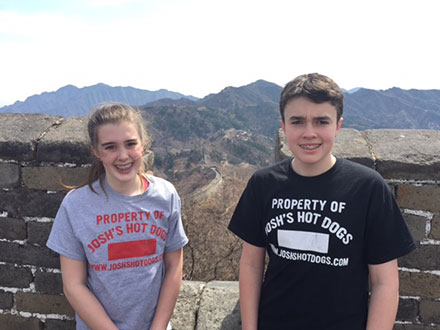 Josh's customers at the Great Wall of China!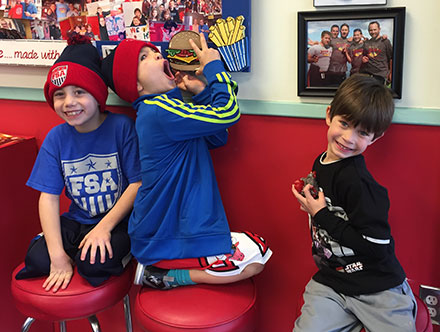 The boys having fun at Josh's.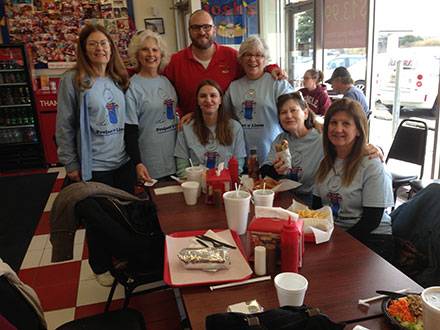 Project Linus at Josh's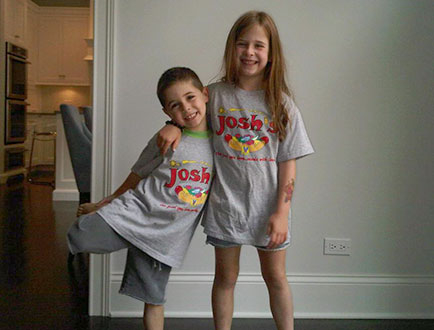 Regular Josh's customers.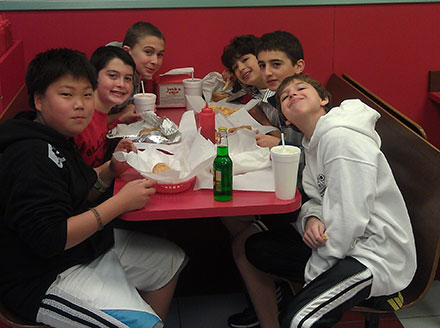 The boys enjoy a great lunch at Josh's Hot Dogs.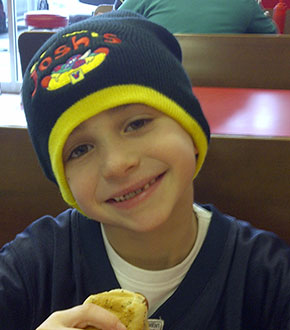 Hot dog lovers don't get any cuter than this!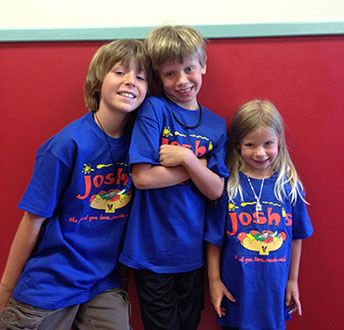 Josh's new shirts worn by 3 of our cutest customers.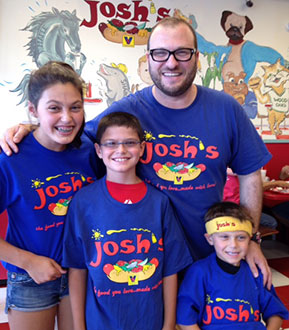 A great afternoon at Josh's.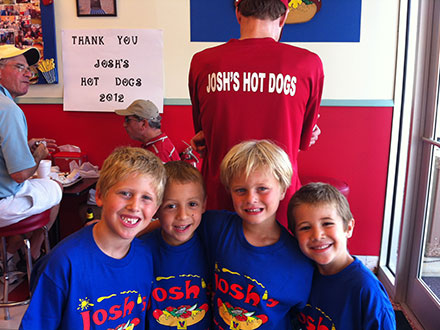 The Red's at Josh's Northbrook.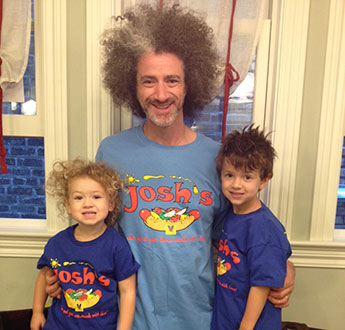 Bird and his tweeties find time to nest at Josh's.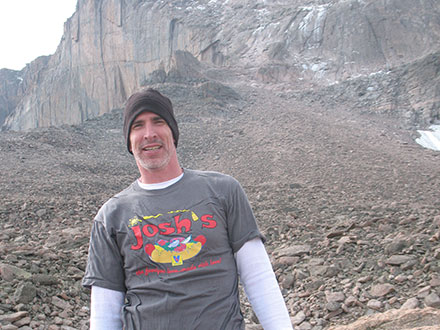 Josh's closest friends representing in Boulder, Colorado.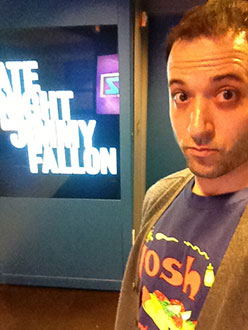 A Josh's customer on set of Jimmy Fallon show!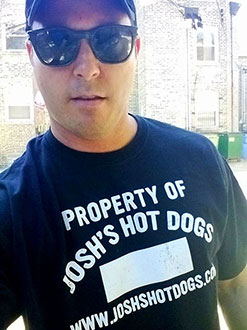 Josh's gear trending nationwide!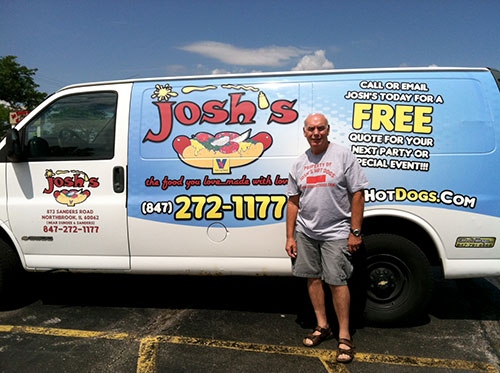 NJ Friends at Josh's
Please Call Gail to book your special event
224-804-8701
We want to thank you, Hugo, and Gary for giving us a fabulous party this past Sunday. Hugo and Gary were friendly and efficient. Our poolside barbeque looked wonderful with your tents set up on the grass. The food, of course, was delicious; and all of our guests loved that the food was unlimited! Our guests who live in Northbrook were so excited when they saw the Josh's truck in our driveway. Having you cater our party provided a fun feeling and let us be guests at our own party.

Josh - Just wanted to say a special 'Thanks' to you and your staff. Your staff did an excellent job on site for my husbands 50th birthday party. All of our guest were extremely pleased.

Hey!!! Just wanted to tell you how great everything was! You helped make Larry's day so much better! So easy and great food! All the condiments were perfect. Everyone loved the wraps too. The guys were very nice when I picked up and brought everything to my car and explained it to me. The cart was so cute... You are the best! I will drop off the cart tomorrow. Thanks again!!! Xo.

Good Morning Josh, Spectacular service and food! Hugo did an outstanding job and everyone loved the food. Thank you so much! You can be sure that any event (both business and personal) I plan will include Josh's Hotdogs in the future. See you soon for my weekly burger. Many, many thanks again