Northbrook
Josh's Hot DogsNorthbrook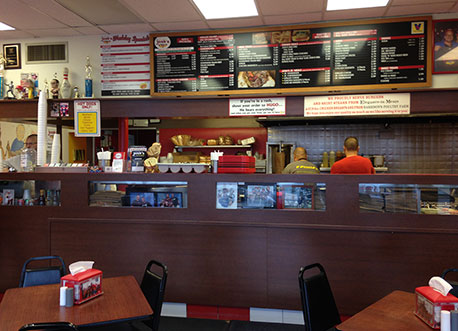 *Friday Rib Special*
Still Featuring
Josh's Full Slab
Rib Special
$14.99
Includes
Full Slab of Ribs
Fries
Coleslaw
Garlic Bread
Welcome to Josh's Northbrook, a classic Chicago Style eatery! Featuring Chicago style hot dogs, italian beef, polish sausage, Gyros and more in a lively and friendly restaurant. Bring the family, meet with friends, or just enjoy the finest Chicago Style food around on your lunch or dinner break. Dine in, carry out or have it delivered.
Josh's Northbrook is proud to serve the Northbrook community and all of the surrounding areas. A Northbrook favorite, Josh's is always striving to continue its excellence in food quality, store cleanliness, and customer service. This is what has made us who we are and keeps our customers coming back. We take a great deal of pride in our community involvement from school lunches to a variety of events. We proudly support the community of Northbrook through athletics, concerts and events. Thank you for visiting our site, and as always...we look forward to serving you.
A few highlights include, but are certainly not limited to:
We use all beef Vienna Beef hot dogs, a Chicago favorite Our "Famous Polish Sausage" truly is one of the best around- try it and you'll agree Our hand packed hamburger patties are fresh, never frozen We proudly feature a Midwest favorite, Merkts cheddar cheese We stand by our homemade Italian Beef Sandwich as one of the best you'll ever taste Our Grilled Salami Sandwich on French bread will tickle the fancy of any salami lover All of our salads are always fresh and our dressings are homemade Our kids meals are all under $6.00
Daily SpecialsLittle things make us best in town
MONDAY
Philly Beef
green peppers, mozzarella & grilled onions on french bread
$5.79
TUESDAY
Rocket Burger
roasted jalapeños
& grilled onions
$5.59
WEDNESDAY
Burger Bomber
on french bread
$5.50
THURSDAY
BBQ Brisket
the best in town!
$6.49
FRIDAY
Hugo's Gyro
shpicy shawsh, grilled onions & lettuce
$5.99
Josh's Northbrook
hours
Monday - Friday: 11:00 am to 8:00 pm
Saturday: 11:00 am to 7:00 pm
Sunday: 11:00 am to 3:00 pm
Tray Catering and Backyard BBQ Catering
We want to thank you, Hugo, and Gary for giving us a fabulous party this past Sunday. Hugo and Gary were friendly and efficient. Our poolside barbeque looked wonderful with your tents set up on the grass. The food, of course, was delicious; and all of our guests loved that the food was unlimited! Our guests who live in Northbrook were so excited when they saw the Josh's truck in our driveway. Having you cater our party provided a fun feeling and let us be guests at our own party.

Josh - Just wanted to say a special 'Thanks' to you and your staff. Your staff did an excellent job on site for my husbands 50th birthday party. All of our guest were extremely pleased.

Hey!!! Just wanted to tell you how great everything was! You helped make Larry's day so much better! So easy and great food! All the condiments were perfect. Everyone loved the wraps too. The guys were very nice when I picked up and brought everything to my car and explained it to me. The cart was so cute... You are the best! I will drop off the cart tomorrow. Thanks again!!! Xo.

Good Morning Josh, Spectacular service and food! Hugo did an outstanding job and everyone loved the food. Thank you so much! You can be sure that any event (both business and personal) I plan will include Josh's Hotdogs in the future. See you soon for my weekly burger. Many, many thanks again