Welcome to Josh'sSame Great Food and Fun Now in 2 Locations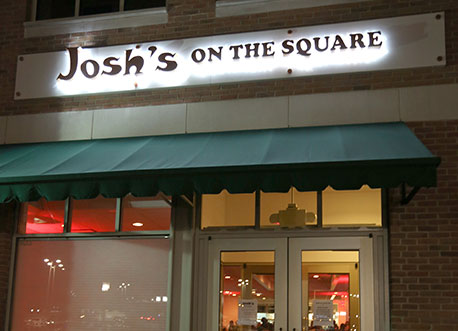 Josh's On The Square Deerfield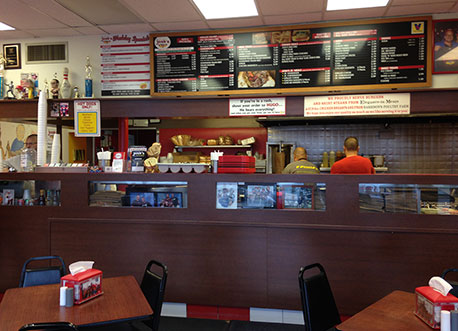 Josh's Northbrook
Josh's is proud to announce the opening of our new Deerfield location, Josh's On The Square. Located in Deerfield Square, 740 N. Waukegan Road, our new state of the art facility features a sleek design that will meet all your party needs. Josh's On The Square is a venue that offers a unique experience, catering to guests of all ages. You can count on our delicious menu which is sure to please everyone. Plus, you can rely on Josh's unparalleled service that you have come to expect.
Josh's is always striving to continue its excellence in food quality, store cleanliness, and customer service. This is what has made us who we are and keeps our customers coming back. We take a great deal of pride in our community involvement from school lunches to a variety of events. We proudly support the communities of Northbrook and Deerfield through athletics, concerts and events.
Daily SpecialsLittle things make us best in town
MONDAY
Philly Beef
green peppers, mozzarella & grilled onions on french bread
$5.79
TUESDAY
Rocket Burger
roasted jalapeños
& grilled onions
$5.59
WEDNESDAY
Burger Bomber
our burger blended with chopped onions shaped to fit on french bread
"best with American cheese, mayo, lettuce and tomato"
$5.50
THURSDAY
BBQ Brisket
on soft potato bun
the best in town!
$6.49
FRIDAY
Hugo's Gyro
shpicy shawsh, grilled onions & lettuce
$5.99
Catering and Special EventsHere . . . There . . . Or Anywhere!
It was nice to have no worries about the food. I was confident that your crew could handle everything and they did. We received many, many compliments about the servers and bar tender. They did an excellent job staying on top of everything from Stephanie prepping things beforehand and both women constantly circulating with food, cleaning up, offering assistance with drinks to guests, replenishing appetizers and desserts, packing up food and cleaning up. The bar tender was very professional and also kept the entire area organized and cleaned up efficiently ... the crew was terrific.

We want to thank you, Hugo, and Gary for giving us a fabulous party this past Sunday. Hugo and Gary were friendly and efficient. Our poolside barbeque looked wonderful with your tents set up on the grass. The food, of course, was delicious; and all of our guests loved that the food was unlimited! Our guests who live in Northbrook were so excited when they saw the Josh's truck in our driveway. Having you cater our party provided a fun feeling and let us be guests at our own party.

Josh - Just wanted to say a special 'Thanks' to you and your staff. Your staff did an excellent job on site for my husbands 50th birthday party. All of our guest were extremely pleased.

Hey!!! Just wanted to tell you how great everything was! You helped make Larry's day so much better! So easy and great food! All the condiments were perfect. Everyone loved the wraps too. The guys were very nice when I picked up and brought everything to my car and explained it to me. The cart was so cute... You are the best! I will drop off the cart tomorrow. Thanks again!!! Xo.

Good Morning Josh,

Spectacular service and food! Hugo did an outstanding job and everyone loved the food. Thank you so much! You can be sure that any event (both business and personal) I plan will include Josh's Hotdogs in the future. See you soon for my weekly burger. Many, many thanks again.

Dear Josh,

I just wanted to tell you how wonderful it was to have Josh's cater my backyard end of the year school party. The food was delicious (as always!), Hugo was a pleasure to work with, and I truly appreciate the thought you put into taking care of the details for the party. My co-workers enjoyed the food and have already asked to have you come back again next year. Thanks so much!

Thanks for the call!

And what great customer service on your part! Lunch was wonderful, as well as the service we received! And I have personally ordered from you guys at home and I have never had anything but great things to say about you guys! Keep up the great work and thanks for all of the time you put into each order! Have a wonderful afternoon!

I want to say thank you very much for the wonderful party that we had at Josh's for my husbands 60th birthday. Your staff was very helpful and the food was outstanding as always. My guests really enjoyed the casual and fun atmosphere that evening. It was the perfect place for the celebration and I know our guests were so impressed with the quality of the food, that they will become steady customers.

Went to Josh's for the first time this summer and had one of the best burgers I've ever tasted. And even though the place was packed with people my food was ready before I could even sit down. Definitely going back soon.

Dear Josh,

Eric and I had the great fortune to be near Josh's for a wedding this weekend and indulged in the best hot dogs ever. If anything says CHICAGO, it's a great hot dog and your place says it all! And thank you so much for being so generous and fun to be with.